About Us
Children's Urology Associates has been providing pediatric urology services in South Florida since 1999. Our clinical team includes five pediatric urologists, three nurse practitioners and a physician assistant who work collaboratively to treat, manage and provide quality, family-friendly urological care.
Our team sees patients at five locations, including Miami, Pembroke Pines, Boca Raton, Kendall and Aventura. We offer diverse training and decades of experience to treat more common urology issues as well as provide complex care for conditions that may be rare or require surgical intervention. Several of our providers and staff are Spanish-speaking.
We work closely with Nicklaus Children's Hospital where we provide videourodynamic studies and biofeedback therapy. We are able to perform renal and bladder ultrasounds in all of our office locations except Aventura.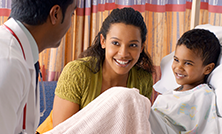 Meet Our Clinicians
Our local clinicians are highly trained to meet the individual needs of patients. Learn about their training, certifications and other credentials by viewing their individual biographies.
View Directory